Our Signature Methodology
THE ROAD MAP TO TOP TALENT METHOD
Recruit
Hire
Onboard
Retain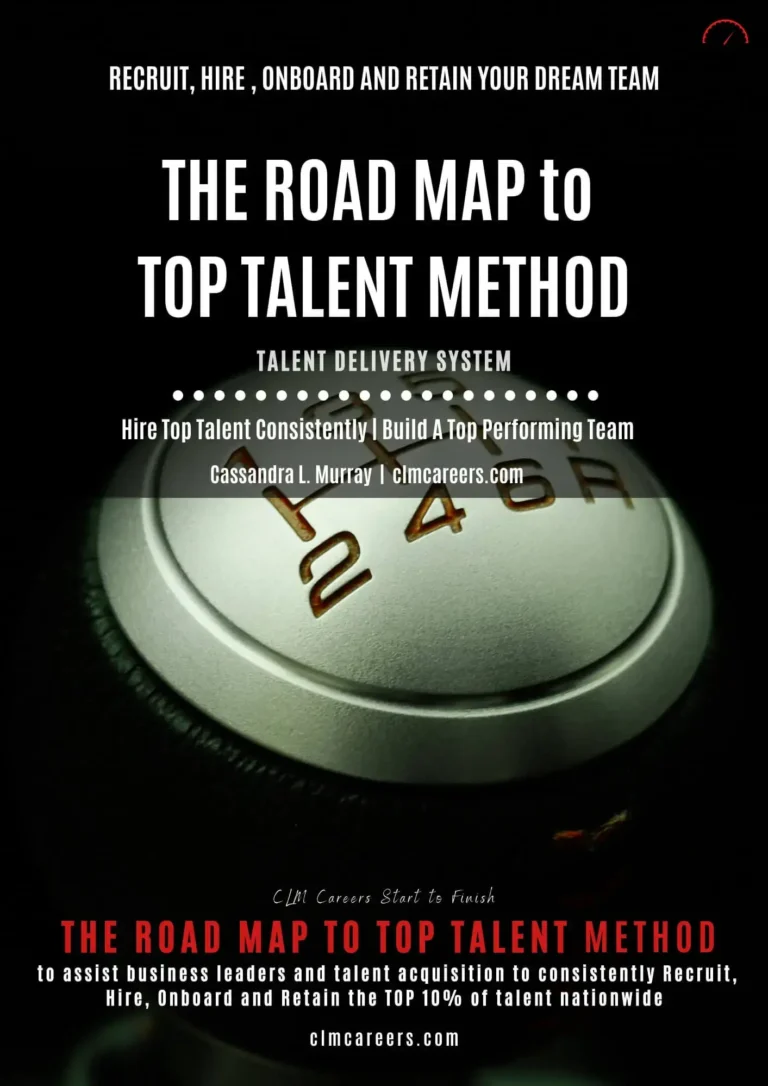 Almost 50% of all hires ever made have been mis-hires. Within the first 12-18 months, if they last, they will be an average performer on their best days, and on their worst, will be a problem employee to eventually manage out. It's happened to us all. This means a huge impact to your company, and your career. It's what keeps leaders from rising above others and securing the BEST positions for their long term career goals and leaves teams wallowing in the mundane. Day after day, numbers just BARELY met, projects in just before the deadline… and those are the good times. No matter how good your product is, you simply cannot push past the mediocrity to rise above the competition without consistently hiring top talent.
When your team is not consistently rising to the challenge and busting goals, it will always come back to bite you.

If you find you are ever reporting less than acceptable numbers to investors, it's time to think about a long term strategy. If you can't get your team to surpass goals and consistently meet deadlines even during a pandemic, you know you are in trouble.

Exceptional leaders who can identify, hire, and retain top talent are the ones who succeed in their careers. And even if you are already there, the bigger the leader, the harder they fall if your team cannot consistently meet deliverables set by investors, partners and owners.

This leaves YOU vulnerable to being replaced.

No matter how good you think you are, if you want to stay competitive, you need a defining factor. You need to prove you can hire the best and keep top performers in every seat to rise above the competition. For your company and for your career.​
In true collaboration to elevate your career and help your company GROW, We learn what your company needs the most in your next top talent hire by interviewing you and/or your own top performers to create a baseline or ScoreCard to evaluate potential candidates for the role.
In full transparency, we conduct a Market Map and Salary Evaluations then share the results with you to enlist a practical pipeline of talent for your future growth plans. We begin with our own network of top talent, then attract hard to find talent using our Employer Value Proposition Optimized Positioning campaign.
EVP Optimized Positioning
We focus on all relevant social media outlets where your MVP resides and share your optimized EVP mirroring your brand image in the market. Complete transparency in partnership delivers the best results. We share your EVP with our proactively sourced network of top talent, the existing talent of your competitors.
We screen engaged candidates using your company criteria and a proven metric based process which separates the top 10% of talent from your entire candidate pool.
This process is based on the metrics set to capture talent similar to your dream employee.
Pre-Commitment Validation
Upon selecting your top candidates, we ensure your potential new hire is thoroughly engaged and thrilled to accept a written offer. We use a unique process in reference checking to validate your potential hire's complete work history before the offer stage delivering peace of mind and confidence in your hiring decisions.
We guarantee your new hire for up to 12 months and stay in touch with you and your new talent to ensure the ongoing fit. We continue the conversation through 'touch base' meetings at 30 days, then each quarter for the first year to ensure you and your new talent is confident in the performance expectations set at the time of hire.
Drive Your Career Further, Faster.

It's not your fault. No one would have thought it would come to this.
Leading, much less hiring during a global pandemic has got to be the #1 thing we weren't prepared for in business. Fortunately, Recruitment Marketing is fairly new, and just like the days of door to door sales, Digital Marketing has dominated traditional recruitment and made it nearly obsolete. There is no going back to the old way and expecting it to work even in good times.
🔑 Getting your product out on time even during CRUNCH MODE

🔑 A DELAY in your launch date (because of any number of things piling up)

🔑 OR have that one employee who seems to STIR the POT and gets the team riled up and off-track…
You have HUGE goals ahead of you. Any empty/ ill-fitting seat on your team is a wrong turn to meet those goals.

Dealing with outside recruiters can cause even MORE stress when they send you the same resume you already have in your database, GHOST candidates while representing YOUR company and worse…

They offer the same 'perfect fit' candidate to your competitors…They seem to work for the candidate's best interests, but you are the one paying the bill…

Or- the same resumes you've seen over and over again.

Having a solid candidate pipeline in place for key roles is vital to your success as a leader. Waiting until someone hands in their resignation to begin your search puts YOU in the desperate seat. Why would you do this to yourself, and to your career?
We're a Recruitment Consultancy Firm specializing in placing TOP performers with smaller, GO GETTER organizations.

We help companies like yours win the War for Talent, even over larger companies.

With just over a decade in Recruitment, I've interviewed thousands of candidates, worked side by side with hiring staff and understand what a company needs to not only survive, but to THRIVE.

We identify TOP talent through a unique process we created using the same techniques as large firm's top headhunters and recruiters in the industry without the same blacklist of clients.
We don't just post your opportunity on job boards to the 18% looking for a J.O.B.
We MARKET to top performers and SELL your Employer Brand
Connecting TOP Talent with Respected Companies
Specialties: Sales, Digital Marketing, Branding, Social Media, Creative, Content Management, Graphic Design, Product Development, Product Packaging, SEO/ SEM and E-comm, Operations Support, and Logistics in exciting start-ups and emerging industries.